By Emilie Bouchard
Cemeteries have always been interesting to me. Like memorials, cemeteries are a way to commemorate people who have passed. Unfortunately, many cemeteries have been abused or neglected over the years. Once cemeteries become lost or forgotten, we lose a sense of identity and family as well. Having worked for almost two weeks in a Jewish cemetery has been a difficult task, but at the same time rewarding. Through our work, we have been able to estimate how many gravestones existed the areas we worked in, along with how many still exist and identify some of the people who have been buried. But our work was not only about restoring the cemetery, it was also about reuniting families. It was about finding those who were lost and bringing them home.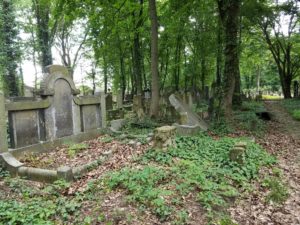 On Tuesday June 6th, 2017, we began working in the New Jewish Cemetery in Wroclaw Poland. This pre-war cemetery was rediscovered by a man named Piotr Gotowicki. Since 2010, Piotr has dedicated his time and effort to rebuilding the cemetery. Our task was to help him map fields, count the burial plots and record the information contained on the gravestones. When we arrived, our group was divided into teams and given a field to start mapping. By mapping the land, we had to take into account the number of marked as well as unmarked graves. As we went through mapping the field and counting of the graves, the project became increasingly difficult. Many of the unmarked graves were challenging. In order for our records to be reliable, the gaps between the stones or graves that had been placed at the very edges of the field. One of the most important things to remember is that we were not only there to reconstruct history. We were trying to uncover people's identities in order to establish who they were.
   The significance of our work became even more apparent to me as we learned about or encountered other cemeteries that were invisible. On June 2nd, 2017, we visited the Galicia Jewish Museum in the Kazimierz Neighborhood in Kraków. In the museum, our tour guide showed us a gallery of photos that pertained not only the Holocaust but various aspects regarding the time period. One of the photos that stood out was a bus station that seemed to be fairly new. This bus station was built over a Jewish cemetery, whose existence had been entirely forgotten. Unfortunately, in the last decade, many more such places throughout Central Europe and even the United States have been discovered. Unlike the United States, Central Europe had been war zone and part of divided continent split between western democracy and eastern communism. The cemetery site shown in the photo at the Galicia Jewish Museum is an example of a forgotten and invisible cemetery in Central Europe.
On a hike one weekend in Poland, we came across the town of Bialy Kosciol. In the outskirts of town lies a cemetery that seems abandoned. Our guide had explained it might have been a German cemetery, but was unsure. Without a name or any sign of identification marker, it is unclear to whether it was German, Polish or Jewish. The cemetery has become overgrown with foliage, but some of the gravestones are still visible. From a traveler's perspective, a visitor will not notice because of the overgrowth. From a villager's perspective, they are aware of the cemetery's existence but they have little recognition for it. This is an example of another cemetery that is invisible from both native and visitor perspectives.
During the occupation by the Nazis during the 1940s, hundreds of Jewish cemeteries throughout Poland were destroyed. During a time when anti-Semitism was vastly spreading, the Nazis demolished a majority of the Jewish cemeteries. Although the Nazis had taken part in this purge, the war itself was another cause of destruction. When the war came to an end in Europe, it was almost impossible to rebuild the cemeteries, not only due to the wartime destruction, but also due to the changes in national borders. The New Jewish Cemetery in Wroclaw serves as an example of a German cemetery, which today is located in a Polish city.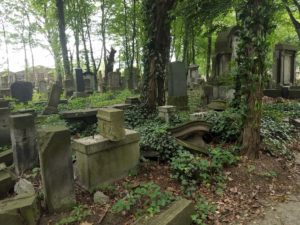 Although the reunification of Europe took place more than two decades ago, there is still an extensive amount of reconstruction to be done. Many of the Jewish cemeteries, along with many other cemeteries throughout Europe have been abandoned, demolished, vandalized or had been destroyed during the Second World War. Over the years, many cemeteries have been abandoned, vandalized or lost to history. Piotr's work, along with our work has been a rewarding experience. By reestablishing part of the cemetery, we have been able to bring back long-forgotten history, but we have also been able to restore the names of families and individuals tied to the history of the city. By doing this, the cemetery has more of a chance to become visible than invisible.
https://urbanlabsce.eu/wp-content/uploads/2017/06/20170612_112818_resized.jpg
756
1008
Ula Klobuszewska
http://urbanlabsce.eu/wp-content/uploads/2014/05/Logo-urbanlabs1-300x84.png
Ula Klobuszewska
2017-06-22 16:29:35
2017-06-22 16:29:35
The Invisible Cemeteries