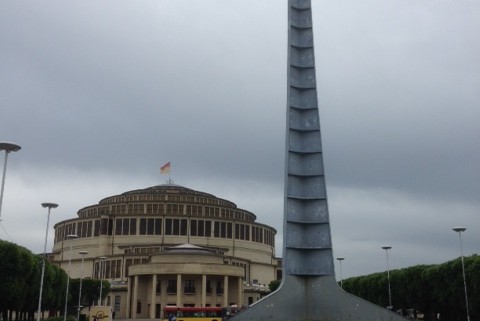 By Michael Kosowski
My face was pressed against the glass window of the bus, while I desperately tried to capture my first glimpses of Wawel Hill. My journey to Krakow was one of excitement and anticipation: I eagerly awaited the chance to visit centuries old synagogues and cathedrals. Reaching the city limits, I saw a bus stop that was flanked by two signs in Hebrew. I was content to see such multiculturalism in a post-Holocaust and post-Communist Polish City. With my mind assured that the rumors of a Jewish revival in a liberalizing Poland were true, I continued to look out the window at the approaching city. But as the days went on, and as I spent time in Wroclaw studying the recent Polish Elections, I began to feel weary about the rights awarded to minorities in Poland. The joy I felt in witnessing the multiculturalism of Krakow was short lived. In this article, I will recount my fortunate experience to witness a rally for Andrzej Duda in Krakow's Market Square. I will also explain how, although I was able to see the next president of Poland only two days before he was elected, this rally made me rather nervous for what Poland has in store for its political future.
Upon arriving at the Rynek on our first night in Krakow, my friends and I decided to eat dinner and then visit the small booths that lined the market square. Microphones and loudspeakers amplified politically toned voices, sending their messages in shockwaves across the square. As I finagled my way through the booths selling jewelry and food, I came upon the source of these sounds. They were emanating from an energetic crowd, one that was waving Polish flags and chanting "Duda" repeatedly. My friends and I assumed that the rally was connected in some way to an election, but we had no conception of the scale of this election's importance. While my friends spoke amongst themselves, I turned to a girl sitting nearby and asked her if she knew what was going on. A high school student named Andy answered instead, telling me that I was looking at a rally for the future President of Poland.
As I continued speaking to Andy, he explained that presidential candidate Andrzej Duda had just been speaking to the crowd about "traditional family values." For me, a gay college student with Jewish heritage, I feel as if trying to define a family can lead to exclusion and hatred. I continued to speak to Andy, who told me that the Duda's biggest issue was with in-vitro fertilization and with women's rights over their own reproductive cycles. Duda wants to make it illegal for women to receive in-vitro fertilization, and he supports legal action including jail time as a possible penance. I was horrified. The rally seemed to include mostly young people, and yet they were supporting rhetoric of hatred and exclusion. The journalist Christopher Hitchens frequently said that giving women control over their own bodies, and allowing them to have rights denied them by most religions is an essence of any free western society. I feel that Poland, by electing Duda, will not only deny rights to half their population, but will also symbolically remove themselves from Western modern modes of thought.
The rally was positioned half way between St. Mary's Cathedral and the Cloth Hall. Was Duda trying to align himself as a supporter of both church and workers? I feel as if he was trying to define prerequisites for membership in the Polish nation. Much of his rhetoric seemed as if he was talking to only one type of people. Must you be Catholic to be a Pole? Must you be heterosexual to be a Pole? His policies are, more or less, mirror images of the Catholic Church's policies on reproduction and sexual identity. One newspaper even said that he has criticized any efforts of the Polish government to make reparations for the Holocaust. I feel that Duda's ideas of national identity are a threat to any non-Roman Catholic living in Poland. Ecumenism and respect for people of all faiths and religions are keys to a functioning society. It adds heterogeneity, which causes debate and sparks a yearning for academic discourse. A homogeneous society, however, causes its people to be content with the mundane, and to be very inward looking. I am almost positive that this is the type of society Duda wants for Poland, and I am completely sure that it is not a society I would like to live in.
Walking through Kazimierz on the Sunday before I left, I was privileged to see an Orthodox Jewish family attending the services at the Kupa synagogue for the holiday of Shavuot. I know that much of the Jewish culture in Krakow is staged. For me, however, seeing this family attending services was rather authentic, and I was proud to see how communities are being revitalized after the damage of the Holocaust. I am concerned that the newly elected Andrzej Duda will stifle this revitalization. His over-obsession with reflecting conservative Roman Catholic religious policies (those which even Pope Francis may want to liberalize) will result in the harsh treatment of Gay, Jewish, and female Poles across the country. I can only hope that his presidency will not result in making Poland's minorities into "the other" as they once were.
https://urbanlabsce.eu/wp-content/uploads/2015/06/3-e1433938945730.jpg
640
480
Ula Klobuszewska
http://urbanlabsce.eu/wp-content/uploads/2014/05/Logo-urbanlabs1-300x84.png
Ula Klobuszewska
2015-06-10 14:25:13
2015-06-10 14:25:13
Poland's Elections: A Grim Future?