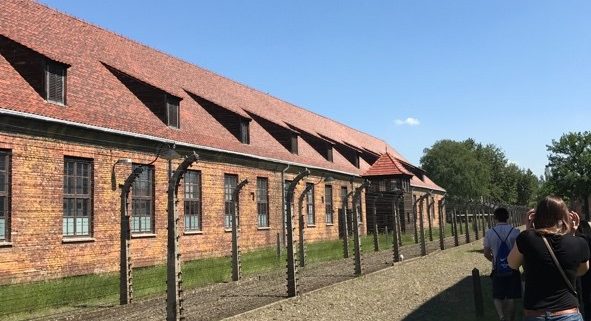 By Dustin Ducey
In the prior days before visiting the Auschwitz -Birkenau memorial I truly did not know what to expect. The horrifying events such as brutal deaths of small children, women and families that took place at these sites is extremely difficult to wrap my head around. I believe that you can read, watch, or listen to anything regarding Auschwitz-Birkenau but it doesn't have nearly the same effect that visiting the actual site does. This chilling experience really made me realize what the Jewish population of countries all across Europe had to experience for no particular reason.
As I first walked in through the main gate of Auschwitz, which has the famous entrance that translates to "work makes you free," I was speechless. Seeing all the buildings that the Jewish families and other political prisoners not only lived in, but were forced to build made my bones ache just thinking about the brutal labor. One reoccurring topic our tour guide talked about, and something that was reinforced through images on display throughout the museum, was the unbearable conditions that the Jewish prisoners had to cope with. After long days of working you were lucky if you were able to sleep on the floor with a blankets or a bed in a room filled with other prisoners. As a form of punishment, some inmates had to stand throughout the night in a closet sized room with three other people, only to be released the next morning for another long day of harsh labor. This is not to even mention the minimal portions of food they received per day that was most the time not even safe to eat. Seeing the clothing that they were giving and rarely washed made me appreciate smaller things in life such as clean clothes and comfortable shoes. The living conditions that the Jewish prisoners had to endure was heartbreaking to physically see and was a major reason for the unfortunate deaths of thousands of Jews.
As there was a countless number of moving aspects to our tour, there was one in particular that hit me hard: the children. As we went though different buildings there were many pictures of terrified and confused little children as well as displays of their actual belongings such as suitcases and clothing. As families were deported to different concentration camps they weren't told what was actually going to happen so everyone was confused. That being said, nobody could have been more confused or terrified than the small Jewish children. How a normal human being could shoot and kill innocent adorable children I can never understand or process though my mind. Sadly, hundreds of thousands of children were sent to gas chambers, shot or died of poor living conditions on the very same grounds and buildings that we were walking through. That to me is sickening and angers me even contemplating that we were at that camp where all those events occurred. Thousands of innocent children were brutally murdered for no reason, that is a tough statement to wrap your head around.
A couple more aspects of the tour that stood out to me were the people who were unable to work and the execution wall where prisoners were shot. As families flooded off the trains they were separated, soon after doctors decided which people were capable of working and which ones were incapable. If you were incapable of working you were immediately sent to the gas chamber to experience a horrific death. This stood out to me especially imagining coming off the train confused and scared, only to be sent immediately to my death in a gas chamber is something not even in my worst  nightmares. The execution wall where people were shot and killed also stood out to me immensely. Sometimes over a hundred people were shot and killed in one day outside the building where prisoners slept. This stood out to me because there was a specific spot with a certain wall where victims would stand in front of to be killed. Thousands of innocent people were shot there and we were standing in the same place many years later. To me that is terrifying that something of this degree happened in our world with supporters and nobody to stop it. These were two aspects of the tour that really stood out to me and made me think very deeply about.
As you can see, I was not entirely sure of what to expect when approaching Auschwitz -Birkenau memorial. I have read many different articles about these concentration and death camps but never thought I would get a chance to explore these grounds where horrifying mass murders took place. While walking though the sites I was speechless for the most part. I didn't know what to think or how to react. There were many different emotions going though my mind such as disgust, anger, and just sadness for all the innocent Jews who were ruthlessly murdered at the concentration camp of Auschwitz -Birkenau. This was an unbelievable opportunity to be able to visit Auschwitz –Birkenau. That being said, after a full day to think, I still cannot put into words how I feel after the experience.
https://urbanlabsce.eu/wp-content/uploads/2017/06/2-3.jpg
787
591
Ula Klobuszewska
http://urbanlabsce.eu/wp-content/uploads/2014/05/Logo-urbanlabs1-300x84.png
Ula Klobuszewska
2017-06-23 07:20:48
2017-06-23 07:20:48
Experiencing the Auschwitz-Birkenau Memorial