By Jacqueline Murrer
When someone mentions the name, "Auschwitz", the first thing that most likely comes to mind is the concentration camp in Poland, Auschwitz-Birkenau. But, did you know that this camp was actually named for a historic town where the Nazis established the camp – Oswiecim, which is still a functioning town today? Before visiting the former concentration camp, I had no idea that there was an entire community surrounding the site. Even during the tour of Auschwitz-Birkenau, I could see many homes on the other side of the wire fences; bringing the idea of having something so close to your home that "it is in your backyard" to a much more literal level. When I saw these homes during my visit to the camp, I couldn't fathom how some people, nor an entire community of people, could bare to live in such a morbid place, overshadowed by one of the most notoriously dark and sad places in all of world history.
After visiting the camp on an official study tour, I stopped with my class to have lunch at a local café, where we spoke with students that were interning there; one from Austria and one from Germany. Both students, around 18 years of age, attested that while living in Oswiecim for the past month or two, they have seen only a handful of people their age. The students told us that the town is mainly occupied by older generations, and that anti-Semitism is still very prevalent in the town.
After seeing and hearing about the small town that exists alongside the site of one of the greatest historical catastrophes, I decided that I needed to learn more about how the neighborhood functions, how successful it is in creating an identity apart from the concentration camp, and what life is really like in a town like Oswiecim.
Today, there are just over 39,000 people living in the town of Oswiecim and the town has been slightly refurbished within the last several years. The Polish government has recently granted the town a quite a bit of financial help in order to bring the town back to life. Klaudia Domzal, who gave her testimonials about living in Oswiecim to Café Babel, a multilingual participatory magazine made by students across Europe, explained that "before, we didn't have any nice public spaces… but now we discover the ordinary face of an ordinary town, with cafés, restaurants, some nightclubs, two cinemas, a high school, a college, a tattoo parlor, and a newly refurbished library". Domzal also emphasized that it was the kind of place that she'd like to live and grow old in.
While reading these statements from Domzal, the one that stood out to me the most was when she spoke about how the people in Oswiecim know the history of the town, but they carry on throughout their day-to-day routines without thinking about its dark past. Domzal expressed, "it's true that the old camp is very close to the town, but we don't have a daily connection to this part of history. We know it exists, we are familiar with the story, but we carry on in our everyday lives without giving it a second thought". I could not seem to wrap my head around the thought of walking the streets of Oswiecim and not constantly feeling overshadowed by the Auschwitz camp and its history. How could anyone possibly wake up and do their daily routines, take a bike ride around town, or even pass the camp on their daily commute to the camp, without being completely distraught? How is it that community could thrive and sustain a sense of livelihood in a place that was once the largest place of death?
For some, they had lived in the town of Oswiecim before the war, and were simply returning to their homes. For others, the cost of housing was too low to pass up. Regardless of the reason, many people have planted their roots in this town and don't have plans of leaving it. In fact, contrary to what many people may believe, they have very happy lives that are no different than ours.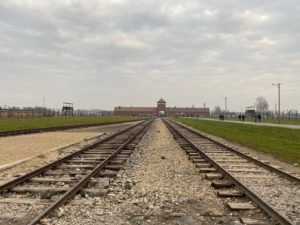 Jewish-American artist, Danny Ghittis, set out to show how people have regular lives in Oswiecim through his photo series, "Life in the Shadow of Auschwitz". The series includes multiple photos of people doing their daily activities around the Auschwitz-Birkenau camp. Perhaps the most intriguing photo is that of a girl roller skating along the side of the camp, with the barracks very close in the background. Others include farmers burning wood near a gas chamber, and a nun playing badminton in front of the camp. This series, although it may be controversial due to its depiction of a light and airy, happy lifestyle near the grounds of one of the largest mass graves in the world, was created to show that "life goes on". Though this photo series may be a lot to take in and comprehend, it does indeed show that there still is life in Oswiecim outside of the former concentration camp. This life stands for both the resilience of the people there, determined to make a new face for the town, as well as the desire to forget its ugly past.
Sources:
Café Babel Article: https://cafebabel.com/en/article/life-in-the-shadows-of-auschwitz-5ae00966f723b35a145e4f92/
Danny Ghitis "Land of Oswiecim" Photo Gallery: https://dannyghitis.photoshelter.com/gallery/Land-of-Oswiecim/G0000W5vvzphPABw/
https://urbanlabsce.eu/wp-content/uploads/2019/12/Gate-at-the-entrance-of-Auschwitz-I.jpg
823
1098
Anita Jakubik
http://urbanlabsce.eu/wp-content/uploads/2014/05/Logo-urbanlabs1-300x84.png
Anita Jakubik
2019-12-05 09:32:32
2019-12-05 09:32:32
Oswiecim: Living in Auschwitz Today