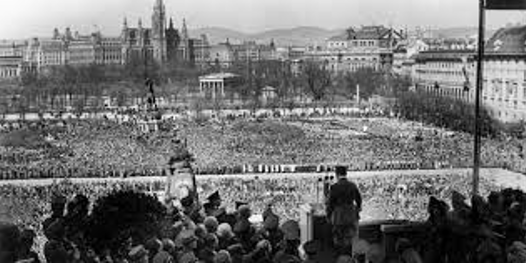 By Maryrose Dollard
In my studies in Central Europe, the information tour guides shared with us that was most interesting to me was sometimes not even said explicitly but nestled in underlying facts. I was often left with questions. Why was it so easy for neighbor to turn on neighbor during the Holocaust era? Why were people so easily influenced by their government from day to day during the Communist era? I found some answers from my own major – psychology, in which we study the influence of the mob mentality. The mob mentality considers how people are influenced by others to act in the same way as the group, usually different to how they would under normal circumstances. According to Medical Daily, "When people feel they will not be recognized or called to answer for their actions, they are more likely to behave wantonly. Another factor is responsibility. Guilt, shared collectively and spread thin, is an easier thing to stomach.". While the mob mentality cannot explain fully the past, it may help to understand. In my travels I saw examples of the mob mentality from the past in Austria and Hungary during the Holocaust and Communist eras.
The first example of mob mentality comes from Vienna where I learned about the way Austrians celebrated the annexation of their country by Nazi Germany. On March 14, 1939, the day after German troops marched into Austria, Heroes Square in Vienna was filled with a quarter of a million Austrians showing their overwhelming support. They flooded into the square to listen to Hitler give a speech from a balcony at the Hofburg Palace. Another example of the mob mentality in Austria happened within a few days of that speech and came in the form of "scrubbing parties". Pro-Nazi Austrian citizens made their own patches with the Swastika to wear on their sleeves and forced Jewish citizens onto the streets to clean and scrub paint that said "free Austria," markings left over from days before when other Austrian citizens were vocal about their opposition of German occupation of their country. In their chapter "The Third Reich" Deborah Dwork and Robert Jan van Pelt, describe the mob mentality of the period. They write: "Viennese civility vanished, demonstrating clearly that the Nazi Party had no corner on antisemitic cruelty. This was mass sport." (Dwork & Jan van Pelt, pp  96-97). Participants were going out of their way to make sure that Jewish and other minority citizens suffered; to me the only reason to explain this eager engagement was that the mob mentality had finally been triggered.
Mob mentality also offers insights into how citizens conformed during the Communist era in Hungary. I learned how supporters of Communist rule made their thoughts known to anyone who would listen. Our tour guide in Budapest told a story of his teacher in the 1980s interrupting a math lesson to remind the students that they have to be "good Soviet boys and girls" and what that entailed for them. After 1989 when the Iron Curtain fell and Soviet-backed Communism ended in Hungary, that same teacher would preach positively about capitalism. These changes in public behavior show how people will conform to changing times and will act in ways that will get them in the least amount of trouble in some cases when the government is involved. As a counterpoint, that same tour guide told the story of his father, who protested Communism in the 1950s, and was sent to jail, labeled as a criminal. After the fall of communism, he was released and seen as a hero. This story illustrates how the group mentality had changed; what people were told to believe yesterday was no longer accepted.
These times in history were troubling for everyone. Under totalitarian rule, people were no longer sure of who they could trust. Families were torn apart and mass murder was normalized. That kind of trauma is bound to make people think differently and rationalize their thoughts in any way they can deem "normal" under the circumstances. The mob mentality cannot explain fully why these events occurred; these events were acts of torture and evil that cannot be simply explained.
Sources:
Photo: https://www.vienna-unwrapped.com/hitler-in-vienna/
https://www.medicaldaily.com/mob-mentality-brain-suppresses-personal-moral-code-when-groups-288342
Dwork, D., & Jan van Pelt, R. (2002). The Third Reich. In Holocaust: A History (1st ed., pp. 96–97). New York, NY: W. W. Norton & Co.
https://urbanlabsce.eu/wp-content/uploads/2019/11/Bez-tytułu-1.png
263
526
Anita Jakubik
http://urbanlabsce.eu/wp-content/uploads/2014/05/Logo-urbanlabs1-300x84.png
Anita Jakubik
2019-11-09 09:23:41
2019-11-09 09:23:41
How the Mob Mentality Affected Europe for 50 Years